The Puget Sound Airship Society (PSAS)
Why airships? Half a century ago and more, mighty airships plied the skies, conveying passengers in luxury and comfort throughout Europe and across the Atlantic to the United States.
Until the crash of LZ-129 Hindenburg in 1937, they had an unmatched safety record. They were reliable and fuel-efficient. A modern 747 uses more fuel taxiing down a runway than LZ-127 Graf Zeppelin used on her 1929 circumnavigation of the world.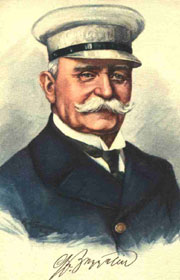 Ferdinand Graf von Zeppelin
1838 - 1917
Why now? Advances in technology and the abundance of helium make the airship more practical than ever. Opportunities for tourism, transport, and advertising abound.
---
What is the PSAS?
We're a small group of airship afficianados who live in western Washington State, on the Pacific coast of the United States.
Our mission is to spread the word that the airship is back! Ultimately, we hope to generate interest in commercial passenger airship service throughout the Pacific Northwest.