About the PSAS Logo
Our logo depicts the last of the great airships, LZ-130 Graf Zeppelin II.
Following the shake-down trials of her sister ship, LZ-129 Hindenburg, the Zeppelin engineers incorporated numerous engineering and design improvements in her construction. She was designed to carry up to 100 passengers with a crew and wait staff of 50.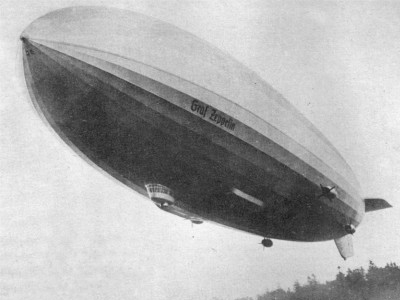 LZ-130 Graf Zeppelin II on her maiden voyage, 14 September 1938
After the Lakehurst disaster, she was modified for helium inflation and an assigned passenger capacity of only 40, although the reconfigured passenger cabins were roomier, had better lighting, and included four luxury cabins.
After the American government refused to supply helium to the Germans, Graf Zeppelin II flew using hydrogen between 14 September 1938 and 22 August 1939.
With the outbreak of war, she was laid up in Hangar #2 at Rhein-Main Airfield in Frankfurt. Together with the original LZ-127 Graf Zeppelin, she was cut up for scrap in March 1940. Damn Nazis.
| | |
| --- | --- |
| Length: | 804 feet / 245.06 meters |
| Diameter: | 135 feet / 41.15 meters |
| Gas Volume: | 7,063,000 cubic feet / 211,890 cubic meters |
| Engines: | Four 1200 hp Mercedes Benz engines |
| Maximum Speed: | 84.4 mph / 135 kph |

---

Copyright ©2007 Puget Sound Airship Society